It was another exhilarating day's play in Chennai, where England have started off the game on a strong note. Joe Root and Moeen Ali ensured India stayed on the back foot right from the outset and barring Ravindra Jadeja's bowling spell, nothing really has gone well for the hosts.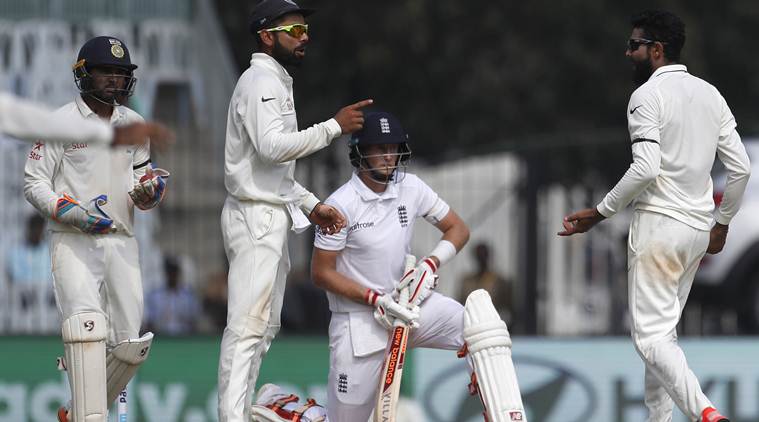 But one of the biggest talking points of the day has been the dismissal of Joe Root, who was given not out by the on field umpire, but technology said otherwise. Indian skipper Virat Kohli was very keen that there was an edge off his bat and hence, he opted to review the decision.
The Ultra Edge suggested there was a very slight contact on the bat. The 25 year old was absolutely furious when the on field umpire was forced to reverse the decision as he was convinced he didn't nick the ball.
On his way to the dug out, Root kicked a water bottle and also smashed a boundary rope on his way. There has been no reaction as yet from the ICC, but its highly likely that he might get reprimanded or penalized for breaching the code of conduct.
Yet, Joe Root has come out and apologized for his reaction and accepted a fact that his reaction was childish. But he also suggested that it was incredibly frustrating to not convert another great start to a big one.
"I was convinced I did not hit it. The technology suggests otherwise but it is bitterly disappointing when you are convinced that there was nothing. Look at the keeper's reaction. He was not interested either. Kohli just went with his gut [for the review] and it worked out. It is bitterly disappointing and frustrating," said Root.
"The bat is not near the floor, so I have to take it on the chin. I might have got a fine edge on it but I did not hear a noise, did not feel anything on the bat. It could be one that bypassed me and is genuinely out. I was probably a bit childish with my reaction as I walked off, but playing international cricket you are going to be disappointed when you feel that you have been hard done by."
Talking about him missing out on yet another hundred, he said, "It's been a theme throughout the year, something to ask Santa for and hopefully we can sort it out for next year, I would be lying if I said I am not frustrated about it. But my game is in good order, I am playing well. It is something to keep in the back of my mind but it is not going to change the way I am playing."
Thursday evening, Joe Root took to the streets of Chennai to get some practice and the video posted by England Cricket Board's official Twitter handler went viral on social media. Talking about this, he suggested he wanted to try few things out, which instigated him to do so.
"My feet were all over the place against the seamers in Mumbai so I wanted to try a few things out. We tried to do it on the tennis courts, they were not ready so the road was the firmest surface we could find and I managed to get a few things sorted."
---
---