The man born to bludgeon and butcher the best of bowling units, the man who gave one tight slap to the "General Perception" and started scripting a new history, the man rated by the legendary Steve Waugh as the "Greatest cricketer in the 21st Century", Adam Gilchrist is the quintessence of professionalism  and sportsmanship.
Those were the times, where it was considered a luxury to have a wicket keeper who could see off few overs, given the team needs his batting services. Then entered this individual on the center stage, who didn't just kill the stereotype, but added an entirely new dimension to the game, a dimension which seemed too far fetched.
1996 was the year you made your debut, two years before I was born. I was hardly aware of your International credentials by the time I started watching cricket. But watching you lift the IPL trophy in 2009, for my local and favorite club Deccan Chargers in a way cemented a spot for you in my heart, which is meant to be perpetual.
I remember that match against Delhi Daredevils in the semi finals, where you just battered and bruised their bowlers whilst chasing a modest, yet competitive 150 odd runs target. A match which was supposed to be a cliff hanger, eventually turned out to be one way traffic after the Gilchrist hurricane hit the shores of Centurion.
It was equally disappointing to see you get dismissed way too early in the finals, but the way you inspired your troops to defend pretty below par target of 143 was one of the best childhood memories I had and love to cherish.
A nonseasonal rain struck Hyderabad exactly on the day of the final, there was no electricity in the locality, it was a test of my passion for the game but that couldn't belittle my spirit. The efforts that we put in to just know what was the score and all those agonizing times waiting for the electricity, have stuck in my head in a way that I can never forget.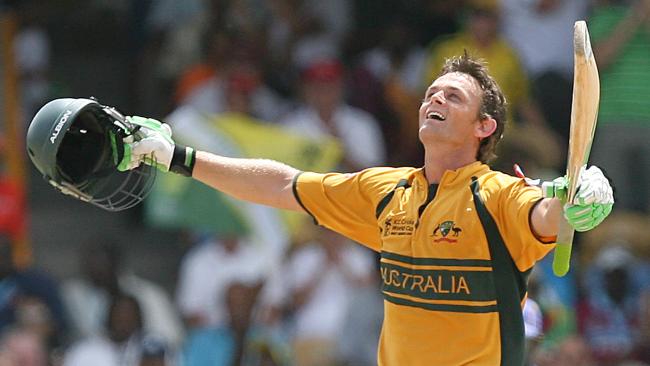 People often refer to a saying "The two things which define you are, the patience when you have nothing and your attitude when you have everything". Though it was a hard fought battle with the yester generation great Ian Healy to get into the side, you kept your patience and one fine day you got what you wanted and no matter how many accolades you've won, you were the same.
I always wondered how a person can be so inspirational like you and Rahul Dravid, two people I idolize in every walk of my life. I wonder how many people you've killed with that heart slaying smile and I wonder, can you just show up something in you that can make people hate you?
Well, all my love for you made me watch the highlights of many of your spectacular and swashbuckling innings down the order in the longer version on the internet. One of my favorites is that 57 ball hundred you scored against England, which just set the contest ablaze.
Cricket will forever be thankful to you Gilly, for letting us realize that a wicket keeper can be an equally brilliant batsman as that of the other accomplished ones. If it had not been you, I doubt if there was anyone in the fraternity who could instill the kind of hope your performances did.
For all the people of our generation, who have seen some modern day wicket keeping batsmen like MS Dhoni or Kumar Sangakarra, who are legends in their own rights, might not understand the importance of your role in the game of cricket, but the one who really does, will just bow down and salute the courageous and audacious individual you are.
Well over 5,000 runs in Tests coming in at number 7, first player to hit 100 sixes in Test history, 3 time World Cup winner, 33 International hundreds wearing the baggy green number 381 and after achieving so many things which can never be put into words, you walked into the sunset without too much off a fuss.
Surely, if there was a country where only Gilchrist admirers existed, that country will never see the sunset. You're a hero for everyone around the globe. Your fan base has no barriers, which is what makes quite remarkable.
All those people caught in the stranglehold of life, desperate for some entertainment, would look up to you first as I don't think there can be anyone who can match Sir Vivian Richards, Virender Sehwag and Adam Gilchrist as far as entertaining the crowd is concerned.
Do trust me when I say this, I don't think anyone enjoyed that moment when you picked up a wicket of the first and last ball of your T20 career for Kings XI Punjab more than I did.
You could have been a handy bowler I reckon for the Aussies but nevertheless, thank you Gilly for all the memories that you've given, you are just too special and adorable. As you turn 45 today, we wish you many more wonderful years ahead.
From,
The Greatest Gilchrist Fan There Can Ever Be
---
---