"The daddy of fast bowling" would be the apt phrase to describe Malcolm Marshall. Yes, there were some other legendary fast bowlers for the West Indies in the 60s, 70s and 80s like Sir Andy Roberts, Michael Holding, Joel Garner, Charlie Griffith and Sir Wesley Winfield Hall, but whenever there was a debate on who was the best amongst them, only the most courageous one would have not chosen Marshall.
What made the man so special? This might be a conundrum for the people of this generation but there were hardly any doubts for the people who have seen him play. He would terrorize even the most valiant of batsmen and ensure every critic would fall short of words to describe him.
"Taller guys can be better fast bowlers" was a cliche never applicable in his case. Comparatively, Marshall(5 foot 11 inches) was the shortest fast bowler in the side, yet, with his petrifying action, he would generate brisk pace and man, he was lighting fast!
There's one incredibly popular story of Marshall and Brian Lara's first meeting in 1988. A budding star, looking to make his way into the national side was up against one of his icons. Unsurprisingly, the youngster got horrified and by the time he would wake up, Marshall dismissed him of the first ball he faced.
A jubilant Malcolm Marshall who jumped high in the air to celebrate, stopped midway through his celebration to give the youngster a pat and said "Tough luck". The rest as they say is history in Brian Lara's case, but one mustn't forget the selflessness of Marshall to try and boost up the youngster, who would go on to become an all time great.
Such was the persona of Marshall, exuberant, passionate, fierce, yet quite humble off the field. The vicissitude of his nature was pretty much palpable, from scaring a batsman to death to having a drink with him after the match, he was quite unequivocally sure of what he was doing.
If at all you find anyone who questions his spirit, do show him the picture where he batted only with his right hand against England, as he had broken his left hand.
His path to glory alike many others was never so easy. His father Denzil DeCoster Edghill, a policeman in Barbados, had passed away in a tragic traffic accident when Marshall was 12 months old. He grew up with his mother, grand father, three half-brothers and three half-sisters.
Growing up, he learned the basics of the game partly from his grand father and though his professional career got off to a below par start, once he found his strengths, there was no looking back.
His International debut came against India in 1978 December in Bangalore and exactly in this week all those years ago, International cricket witnessed the inception of this "Once in a life time" fast bowler. Definitely, this week holds a monumental importance in cricket history.
His last few days as a mortal were not the most glorious ones unfortunately and colon cancer cut short his life to just 41 years. He passed away on the 4 November 1999 in his hometown Bridgetown, Barbados.
A popular cricket journalist Pat Symes described that occasion with utmost perfection. He quoted "The worldwide out pour of grief was testimonial to the genuine love and admiration he engendered". On the day of his funeral, his coffin was carried by 5 former captains of the West Indies as a mark of respect.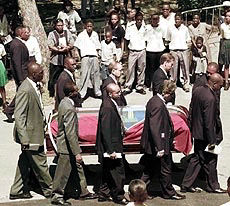 Definitely, he left way to soon as still he had a lot to offer. No matter which country they belonged, he was always there to nurture youngsters and Shaun Pollock was one who had the glorious opportunity to train under the great man in his early days in International cricket.
376 Test wickets, 157 ODI wickets, innumerable memories and an everlasting legacy was something he left behind before bidding adieu to the world. A two-time World Cup winner with West Indies, Malcolm Marshall is a name which still has immense respect around the fraternity and quite certainly it will be the same for a long time.
---
---